Hello, oui, cela fait un long moment que je ne vous ai pas fait d'article de sorties sur les livres en VO, mais c'est vrai que comme j'avais moins de temps pour lire en anglais, je n'étais pas tentée à l'idée de regarder ce qui sortait de ce côté !
After Okami is captured in the Jukai forest, Mariko has no choice–to rescue him, she must return to Inako and face the dangers that have been waiting for her in the Heian Castle. She tricks her brother, Kenshin, and betrothed, Raiden, into thinking she was being held by the Black Clan against her will, playing the part of the dutiful bride-to-be to infiltrate the emperor's ranks and uncover the truth behind the betrayal that almost left her dead.
With the wedding plans already underway, Mariko pretends to be consumed with her upcoming nuptials, all the while using her royal standing to peel back the layers of lies and deception surrounding the imperial court. But each secret she unfurls gives way to the next, ensnaring Mariko and Okami in a political scheme that threatens their honor, their love and the very safety of the empire.
Beyond the Empire and within it, the threat of war looms ever larger.
The Blood Shrike, Helene Aquilla, is assailed on all sides. Emperor Marcus, haunted by his past, grows increasingly unstable, while the Commandant capitalizes on his madness to bolster her own power. As Helene searches for a way to hold back the approaching darkness, her sister's life and the lives of all those in the Empire hang in the balance.
Far to the east, Laia of Serra knows the fate of the world lies not in the machinations of the Martial court, but in stopping the Nightbringer. But while hunting for a way to bring him down, Laia faces unexpected threats from those she hoped would aid her, and is drawn into a battle she never thought she'd have to fight.
And in the land between the living and the dead, Elias Veturius has given up his freedom to serve as Soul Catcher. But in doing so, he has vowed himself to an ancient power that will stop at nothing to ensure Elias's devotion–even at the cost of his humanity.
The Trials of Virtuous Succession have ended. Prince Andreus is king—and Princess Carys is dead.
But even as he's haunted by what he did to win the throne, Andreus discovers that his dream of ruling only brings new problems. The people love his twin even more in death than they did when she was alive. The Elders treat him as a figurehead. And worst of all, the winds of Eden are faltering.
But despite what everyone believes, Carys is alive. Exiled to the wilderness, Carys struggles to control the powers that have broken free inside her. And as she grows stronger, so does her conviction that she must return to the Palace of Winds, face her twin and root out the treachery that began long before the first Trials started.
The Kingdom of Eden is growing darker with each passing day. Brother and sister, former foes, must decide whether some betrayals cut too deep to be forgiven—and whether one will wear the crown or both will lose everything
Tilla, bastard of House Kent, has it made. Safe from her murderous father in the dazzling capital of Lightspire, she lives a life of luxury under the protection of the Volaris King, alongside her boyfriend Zell and best friend, Princess Lyriana.
So why isn't she happy? Maybe it's the whispers and stares that follow her wherever she goes, as the daughter of the traitor waging war against Lightspire. Or maybe it's the memories of her beloved brother, Jax, who lies cold in his grave even as she tries to settle into a life in the city's prestigious University.
Then, Tilla stumbles upon the body of a classmate, a friend. The authorities are quick to rule it a suicide and sweep it under the rug, but when Tilla herself is attacked by a mysterious man with terrifying powers, she's convinced of a conspiracy. Her friends beg her to stay silent; what she's suggesting is impossible… and treasonous.
But Tilla can't, won't, let it go. And the deeper she digs, the more questions she uncovers. How is the West beating the supposedly invincible Lightspire Mages in battle? Is it connected to the shadowy cult wreaking havoc in Lightspire? Nothing is as it seems in the glorious capital, and Tilla's presence might just be the spark that sets the Kingdom aflame.
Lulu Saad doesn't need your advice, thank you very much. She's got her three best friends and nothing can stop her from conquering the known world. Sure, for half a minute she thought she'd nearly drowned a cute guy at a party, but he was totally faking it. And fine, yes, she caused a scene during Ramadan. It's all under control. Ish.
Except maybe this time she's done a little more damage than she realizes. And if Lulu can't find her way out of this mess soon, she'll have to do more than repair friendships, family alliances, and wet clothing. She'll have to go looking for herself.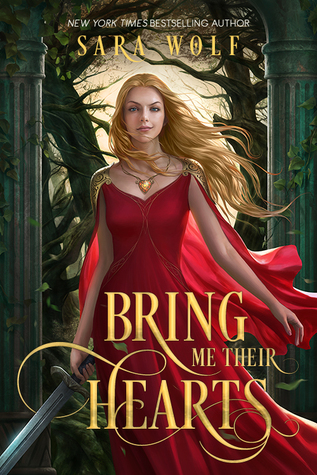 Zera is a Heartless – the immortal, unageing soldier of a witch. Bound to the witch Nightsinger ever since she saved her from the bandits who murdered her family, Zera longs for freedom from the woods they hide in. With her heart in a jar under Nightsinger's control, she serves the witch unquestioningly.
Until Nightsinger asks Zera for a Prince's heart in exchange for her own, with one addendum; if she's discovered infiltrating the court, Nightsinger will destroy her heart rather than see her tortured by the witch-hating nobles.
Crown Prince Lucien d'Malvane hates the royal court as much as it loves him – every tutor too afraid to correct him and every girl jockeying for a place at his darkly handsome side. No one can challenge him – until the arrival of Lady Zera. She's inelegant, smart-mouthed, carefree, and out for his blood. The Prince's honor has him quickly aiming for her throat.
So begins a game of cat and mouse between a girl with nothing to lose and a boy who has it all.
Winner takes the loser's heart.
Literally.
Bloomington High School Lions' star goalie, Sebastian Hughes, should be excited about his senior year: His teammates are amazing and he's got a coach who doesn't ask anyone to hide their sexuality. But when his estranged childhood best friend Emir Shah shows up to summer training camp, Sebastian realizes the team's success may end up in the hands of the one guy who hates him. Determined to reconnect with Emir for the sake of the Lions, he sets out to regain Emir's trust. But to Sebastian's surprise, sweaty days on the pitch, wandering the town's streets, and bonding on the weekends sparks more than just friendship between them.
Beckett Gaines, a gay teen living in South Carolina, has his world turned upside-down by a jock in this laugh-out-loud novel that's Simon vs. the Homo Sapiens Agenda meets The Parent Trap.
Beck:
The Golden Girls-loving, out-and-proud choir nerd growing up in the "ass-crack of the Bible belt."
Jax:
The Golden Boy, star quarterback with a slick veneer facing uncomfortable truths about himself and his past.
When Beck's emotionally fragile dad starts dating the recently single (and supposedly lesbian) mom of former bully, Jaxon Parker, Beck is not having it. Jax isn't happy about the situation either, holding out hope that his moms will reunite and restore the only stable home he's ever known. Putting aside past differences, the boys plot to derail the budding romance between their parents at their conservative hometown's first-ever Rainbow Prom. Hearts will be broken, new romance will bloom, but nothing will go down the way Beck and Jax have planned.