Il est temps de faire un petit retour sur les sorties Vo de novembre. Ce n'est pas dit que j'en achète vue comme j'ai été gâtée pour mon anniversaire, mais je voulais vous faire un petit billet sur toutes ces jolies sorties qui me font de l'œil.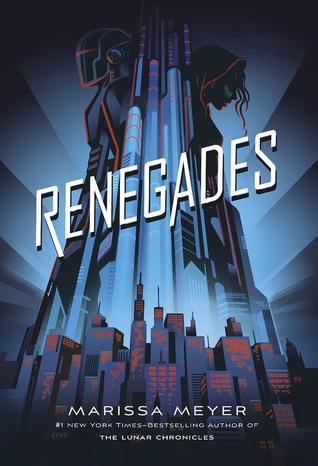 Renegades (Renegades #1) by Marissa Meyer :
The Renegades are a syndicate of prodigies–humans with extraordinary abilities–who emerged from the ruins of a crumbled society and established peace and order where chaos reigned. As champions of justice, they remain a symbol of hope and courage to everyone…except the villains they once overthrew.
Nova has a reason to hate the Renegades, and she is on a mission for vengeance. As she gets closer to her target, she meets Adrian, a Renegade boy who believes in justice–and in Nova. But Nova's allegiance is to a villain who has the power to end them both.
The Speaker (Sea of Ink and Gold #2) by Traci Chee :
Having barely escaped the clutches of the Guard, Sefia and Archer are back on the run, slipping into the safety of the forest to tend to their wounds and plan their next move. Haunted by painful memories, Archer struggles to overcome the trauma of his past with the impressors, whose cruelty plagues him whenever he closes his eyes. But when Sefia and Archer happen upon a crew of impressors in the wilderness, Archer finally finds a way to combat his nightmares: by hunting impressors and freeing the boys they hold captive.
With Sefia's help, Archer travels across the kingdom of Deliene rescuing boys while she continues to investigate the mysterious Book and secrets it contains. But the more battles they fight, the more fights Archer craves, until his thirst for violence threatens to transform him from the gentle boy Sefia knows to a grim warrior with a cruel destiny. As Sefia begins to unravel the threads that connect Archer's fate to her parents' betrayal of the Guard so long ago, she and Archer must figure out a way to subvert the Guard's plans before they are ensnared in a war that will pit kingdom against kingdom, leaving their future and the safety of the entire world hanging in the balance.
The City of Brass (The Daevabad Trilogy #1) by S.A. Chakraborty :
Nahri has never believed in magic. Certainly, she has power; on the streets of 18th century Cairo, she's a con woman of unsurpassed talent. But she knows better than anyone that the trade she uses to get by–palm readings, zars, healings–are all tricks, sleights of hand, learned skills; a means to the delightful end of swindling Ottoman nobles.
But when Nahri accidentally summons an equally sly, darkly mysterious djinn warrior to her side during one of her cons, she's forced to accept that the magical world she thought only existed in childhood stories is real. For the warrior tells her a new tale: across hot, windswept sands teeming with creatures of fire, and rivers where the mythical marid sleep; past ruins of once-magnificent human metropolises, and mountains where the circling hawks are not what they seem, lies Daevabad, the legendary city of brass–a city to which Nahri is irrevocably bound.
In that city, behind gilded brass walls laced with enchantments, behind the six gates of the six djinn tribes, old resentments are simmering. And when Nahri decides to enter this world, she learns that true power is fierce and brutal. That magic cannot shield her from the dangerous web of court politics. That even the cleverest of schemes can have deadly consequences.
Runebinder (The Runebinder Chronicles #1) by Alex R. Kahler :
When magic returned to the world, it could have saved humanity, but greed and thirst for power caused mankind's downfall instead. Now once-human monsters called Howls prowl abandoned streets, their hunger guided by corrupt necromancers and the all-powerful Kin. Only Hunters have the power to fight back in the unending war, using the same magic that ended civilization in the first place.
But they are losing.
Tenn is a Hunter, resigned to fight even though hope is nearly lost. When he is singled out by a seductive Kin named Tomás and the enigmatic Hunter Jarrett, Tenn realizes he's become a pawn in a bigger game. One that could turn the tides of war. But if his mutinous magic and wayward heart get in the way, his power might not be used in favor of mankind.
If Tenn fails to play his part, it could cost him his friends, his life…and the entire world.
Now Is Everything by Amy Giles :
The McCauleys look perfect on the outside. But nothing is ever as it seems, and this family is hiding a dark secret.
Hadley McCauley will do anything to keep her sister safe from their father. But when Hadley's forbidden relationship with Charlie Simmons deepens, the violence at home escalates, culminating in an explosive accident that will leave everyone changed.
When Hadley attempts to take her own life at the hospital post-accident, her friends, doctors, family, and the investigator on the case want to know why. Only Hadley knows what really happened that day, and she's not talking.